News
Newsletter for the week ending Friday 7th July
7 July 2023
---
We welcome Hannah Walters as our new manager for our out of hours club (AOOSC). Miss Davies, a qualified teacher known to our current Turtles and Dolphins in her current role as teaching assistant, will be half of a job share in the nursery element of our Foundation Stage Unit with Miss Olliffe who is reducing her hours from September.
Whilst all of their unions have called for strike action, once again, and despite the likelihood of them agreeing with the reasons for the strike action, all our teachers have taken the decision not to strike. I thank the teachers for putting the immediate needs of the children first to ensure our school remains open so there is no disruption to any child's learning.
End of year reports for Turtles and Dolphins have been distributed for all children. If you have not received your report please let the school office know on admin@appledoreprimary.co.uk. Reports for Years 1 -6 were made available in your child's Google Classroom. Please click here for a guide on how to access it if your child does not remember how to access their Google Classroom. If you have specific questions about your child's report please email admin@appledoreprimary.co.uk to arrange a conversation with their class teacher.
The recording of the online safety workshop for parents by Devon CC safeguarding team is available to view by clicking here. It is a very helpful guide to support parents with ensuring their child's activity online is safe and is available to view until 5pm on Friday 21st July.
This summer, ARC (Atlantic Racquets Centre, Bideford) are offering a brand new Multi Sport Holiday Camp. This will be running Monday-Friday every week of the school holidays. The Camp will run 9am-4pm, with a late pick up option 4pm-6pm. There will be a variety of sports and games played throughout the day. To book, please visit www.atlanticracquetcentre.co.uk/holidaycamp
Mrs McMorine, deputy headteacher and attendance lead, has produced this month's attendance bulletin that is available here. please do all you can to ensure your child attends school – even one day missed has an impact on your child's learning due to the sequential nature of a school's curriculum.
For current year 4 and 5 pupils Park School are holding an Open Evening on Thursday 21st September and their Open Days run from 25th September to 29th September. Parents can book on their website here –The Park Community School Open Events 2023.
Thank you to Friends of Appledore School (FOAS) for organising today's summer fair.
Wishing you all a good weekend
From Jeremy Cooper and all the children and staff
AROUND THE CLASSES
This week in Turtles and Dolphins we have continued to learn about The Three Little Pigs. On Tuesday we acted out the story and then we wrote our own versions in groups. Once they are finished we will upload them to the website so that you can read them. Today we went to The Jungle and we made traps to catch the wolf.
This week in Year 1 we have carried on with our book, How to Hide a Lion in School. We made a story map for our story and talked about which part was our favourite part. Then we looked at verbs and found lots of interesting verbs in our book and went and wrote some of our own sentences using verbs. In Maths we have started Place Value within 100 and have shown how well we know our numbers to 100! We have partitioned them into tens and ones and compared numbers. In topic we compared two different types of castle, a wooden motte and bailey castle and a stone castle. Then we thought about the advantages and disadvantages of both.
Year 2 had a great time at outdoor learning on Monday. They planted radish seeds and put some in the dark to see if they would germinate. They are looking after their runner bean and pumpkin plants and these should be ready to take home soon when they have completed their plant diaries. They enjoyed a visit to the Baptist church on Thursday for the 'Open the Book' assembly. After this, they walked to St Mary's church to spot some of the symbols they have been learning about in RE. In English they are reading a new book called 'Previously' which is all about fairy tales, but with a twist. In Maths, they have been subtracting two digit numbers using efficient methods. In their computing lessons, they are completing their learning about music and will be moving on to learning about programming. Tennis lessons are continuing and they are working hard to develop their skills.
Year 3 have had a great week! We finished our topic on time in Maths by learning how to calculate duration of time and also challenged ourselves to answer word problems involving time. In English, we wrote our own poems based on the story 'If all the world were' and then edited and published them. In Science, we explored which materials are magnetic and which are non-magnetic. We found out that all magnetic materials are metal, but not all metals are magnetic! In History, we explored the role of the River Nile in ancient Egypt and learnt about how people used the river. In guided reading, we have continued our reading on Tutankhamun and have been working on improving our vocabulary and thinking about why the author chose certain words. In PE, we have been practising our backwards passing and also learnt how to defend in tag rugby.
Year 3 presented their research about Islamic Relief and Christian Aid and then explored how the Jewish faith seeks to mend the world. In music, they refined their performances on the recorder and began listening to Carnival of the Animal's by Saint Saens and guessing which animal each piece is about. Year 4 devised a non-religious naming ceremony for a newborn. In French, they redrafted their description of a monster ensuring their adjectives agreed with the nouns. Year 5 defined the terms atheist, theist and agnostic and began to consider why people believe the things they do. Year 6 looked at how different religions mark death and then designed a sensitive sympathy card.
In HMS Echo (year 4)  this week, the children have read the story Firebird in English, and we are ready to start unpicking the text to help the children with writing their own folktale next week. In Maths, we have begun statistics and are looking at different graphs, such as bar charts, pictograms and line graphs. The children are going to draw their own line graphs this week, linking to our topic of Earthquakes where they will plot the history of earthquakes in New Zealand over 20 years on a line graph. As well as this, the children have also been learning about the Pacific Ring of Fire, and learning about what it is, as well as labelling it on a map. In Science, the children will be making string telephones! Hopefully they will have plenty of cups and string to make some.
Year 5 have been working hard this week to complete their Arts Award final piece of work.  Hopefully all will be ready to share with parents/carers on Wednesday afternoon.  In maths we have completed th
e unit on decimals; in English we have found out about the Appledore Lifeboat station and completed the end of term reading assessment.  Cricket and tennis skills are developing every week and a real improvement has been seen. I hope you have all managed to read your child's end of year report but please let the office know if this needs to be shared with you.
Year 6 are almost ready to perform 'I'm an 11 Year Old Get Me Out of Here': dress rehearsals on Monday and Tuesday afternoons for classes in school and then the performance for parents on Thursday afternoon at 2pm. On Tuesday, they had a play performed for them called 'Time in a Bottle', which was part of their PSHE work on peer pressure. They also had First Aid Training learning skills such as CPR, the recovery p
osition and how to help if somebody is choking – it was a very interactive and informative session with vital skills learnt. They have also painted their pinch pots, made periscopes and completed light work in science. As well as writing about a monster in french and enjoying PE sessions. Thank you for all the photos of children when they were younger – if you haven't already sent your pictures please do so as soon as possible. Onion club winner – highest score for weight, girth and appearance – goes to Eleanor!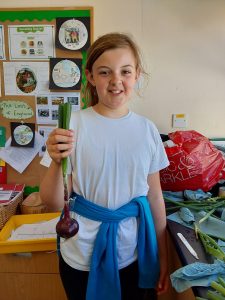 ---