News
Newsletter for the week ending 14th July 2017
14 July 2017
---
Please read on to find out about our new online payemnty system, contacting you by email and text, school plays and much, much more…
AROUND THE SCHOOL
Using Texts and Emails to Contact yYou and School Money Online Payments
We would like to remind you that the online payments system 'School Money' is up and running for pupils on Heatree and Georgeham residential trips. We have also set up a school shop for school uniform, which can be ordered and paid for online. You can either pick the uniform up when collecting your child from school or we can send it home with them.
From September all trips, uniform and nursery fees will be able to be viewed and paid for online. We also have the facility for parents to make card payments in school if they are unable to use the online system.
If you have not returned the letter with your main mobile number and email, please return it because we will also be using those details to contact you when texting or emailing out messages and for you to register for online payments. A copy is available by clicking here.
Year 5 and 6 Tennis Competition at Atlantic Racquet Centre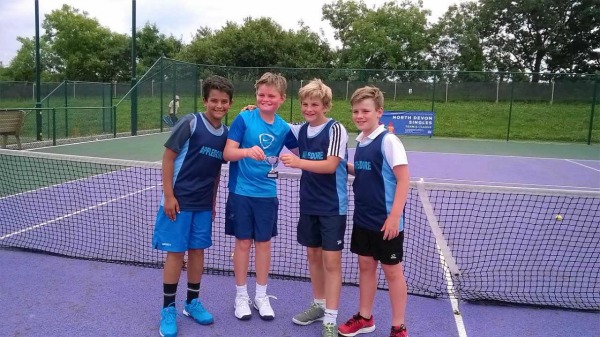 On the 13th of July, Oliver, Archie, Henry and Julian went to ARC (Atlantic Racquet Centre) to represent Appledore School for tennis and did very well. As overall, they got the most points added up all together, therefore winning the whole competition. It was also amazing as they were the only team that had an A team (all the other schools had at least a B team). Also, not forgetting that they were the only school in the area that doesn't train at school as well! One of the favourite things about the whole day was bringing back the trophy to Appledore School!
Tredding the Boards
A week of last minute rehearsals and then numerous performances of An Inspector Calls by Year 6. If any of you who have been involved in an Ofsted inpsection, I can assure you it was a very accurate protrayal! The acting, singing and voice projection was fantastic and a big thank you to all who made it such a funny and successful string of performances.
Change to School Meals Menu Friday 21st July
Chicken/Veggie Nuggets and chips
jacket potato and cheese
Ice lollies
Thrift Club
Monday 17th will be the last paying in day before the holidays. First paying in day after the holidays will be Monday 11th September.
Appledore School crowd Funding
Our crowd funding campaign to raise money for art equipment including a new kiln, for our brand new 'Harbour Studio' opens today at 3:00pm. We need to raise at least £1000 by Friday 21st July (the last day of term) to be successful. The children have been really busy making clay boats as pledges and screen printing limited edition t-shirts that you can pledge on too. Pledges start at £3. Please support us to club together to create a fully equipped amazing arts space for our children and community.
To pledge please follow this link:
www.crowdfunder.co.uk/the-harbour-studio
For Dophin Parents in Preparation for Next Year
Dear parents and carers of children who will be in Year One next year,
On Tuesday the 18th of July, we will be having a brief introduction to Year One.
It will take place in the Year One classroom from 3:45 until 4ish.
It would be great to meet you all, share some information for next year and answer any questions you may have.
Mrs Stephens
AROUND OUR LOCAL AREA
Events at Appledore Library
Saturday 15 July – Start of the Summer Reading Challenge, 10-11:30am followed by ZooLab Animal Handling Experience, 11.30 am –12.30pm – Booking essential
Thursday 3 Aug – Animal Themed Lego Club 10.30 – 12pm
Wednesday 16 Aug – Agent Eight Legs Craft 2-3.30pm
Thursday 24 Aug – Secret Agent Craft Activity 10:30 – 12pm
The Summer Reading Challenge runs from 15th July to 9th September. Collect your goody bag while stocks last and try the treasure hunt to be entered into a competition.
AROUND THE CLASSES
This week we finished off learning about The Little Mermaid, we designed and made our own mer tails using different fabrics – there were definitely some interesting designs! We found out the difference between crabs and lobsters. On Tuesday we carried out an experiment to find out which objects float and which ones sink and why this might be. We also had a shell day on Friday looking at different kinds of shells and learning about which shells are used as homes.
This week we have edited our stories about Christopher Nibble and started to write them up in neat. We have also designed and made the front covers for our books. We have looked at multiplication and used numicon and drawings to help work out multiplication number sentences. We have also worked through a few maths challenges, trying out different ways of finding an answer. On Tuesday we watched the Year 6 play, which we really enjoyed. Well done Year 6.
On Friday, Lundy Puffins shared the fantastic sea creature creations they made for homework. They shared them with each other, then with Year 1 children and then with Mr Cooper. Each and every one is wonderfully creative and they are all varied. There is a display of them outside the classroom so please come and take a look. On Tuesday, they spent a very enjoyable morning at the Lifeboat Station learning about the RNLI. They were able to ask lots of questions, look at the equipment used and even got to climb into one of the lifeboats. Well done everyone for asking such interesting questions amd for walking sensibly there and back in the rain!
The children in Seahunter have worked hard this week preparing for their Ancient Egyptian exhibition next week. They have produced amazing pyramid models as homework, made canopic jars, written labels, practised singing and made necklaces. They have been very industrious! In science, they had a great time designing and making their own sunglasses…they looked quite impressive in their many coloured shades! We can't believe there is only one week of year three left but there are still lots of great activities left so it should be fun.
Year 4 have been busy preparing for their River Performance, which will take place on Wednesday 19th at 2.30pm. It will include a presentation about the water cycle, singing, dancing and drumming! On Thursday, we spent time in the Jungle, building shelters from old sheets, string and anything else we could find. Here are the results!
In literacy Yr5 have published our own versions of the Highwayman. In maths we have finished our work on angles and will look at co-ordinates and translations. We've enjoyed extra cricket this week. We enjoyed the Year 6 production and hopefully it has inspired the class for next year.
This week has been quite a laid back one for year 6, apart from putting on 3 performances of 'An Inspector Calls'. The work we've done has been concentrated into maths and poetry. We have continued our theme park maths every day of the week. This is where we have to run and manage our own (fictitious) theme parks. We have also done a bit of poetry (with Mrs Evans) where we looked at the poem by Thomas Hardy, The Convergence of the Twain. We then planned out our own poems about the Titanic based on a specific character (Survivor, A Dead Man, A Star looking down upon the Tragedy etc). We are looking forward to our leavers party tonight (BBQ and waterfight).
By Class Reporters Will and Laurence
---